Blog
5 of Our Favorite Toppings for ZeroCarb LYFE's Chicken Crust
by Zero Carb on Nov 29, 2022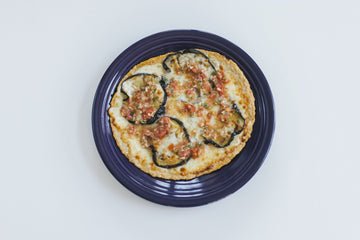 Are you making your grocery list for the week? Need ideas for a quick, easy, and delicious meal? Look no further! ZeroCarb LYFE nutrient-packed crusts pair well with all of your favorite toppings… but here are just a few of our favorites!
#1: Mushroom
On top of being a flavorful topping, mushrooms are rich in fiber, protein, and antioxidants. Not to mention, their also gluten-free! This makes for a perfect combination with our 4-ingredient, gluten-free crust. Check out our recipe for a delicious mushroom pesto pizza here!
#2: Eggplant
Eggplant can be an acquired taste, but it is a great, creative option to top your ZeroCarb LYFE crusts. Eggplants are low in sodium and calories while being high in potassium and dietary fiber. Need some inspiration? Check out our eggplant pizza recipe!
#3: Vegetables
Who doesn't love a classic veggie pizza? Some healthy vegetables to include on your next pizza creation include bell peppers, tomatoes, onions, or olives (bonus points if they're from your local farmers market). Create your own combination or check out this vegetable pizza recipe featuring ZeroCarb LYFE crusts!
#4: Buffalo Chicken
The first ingredient in ZeroCarb LYFE crusts is chicken, so why not add more delicious protein? Just add buffalo sauce and we guarantee you'll have your new favorite pizza. Check out our buffalo chicken pizza recipe for some inspiration!
#5: Pineapple 
We know… pineapple on pizza is a sensitive topic for some. BUT… pineapple is loaded with healthy nutrients and a tasty, sweet flavor. If you're a pineapple on pizza supporter, check out this recipe for pineapple veggie pizza! If you're against pineapple on pizza, we've got lots of other appetizing recipes for you to choose from. 
So… What are you waiting for!? Join the #ZeroCarbLYFE movement today! Our pizza crusts are frozen, ready-to-use, and can be kept for up to six months (but they won't last that long once you try them!) Click here to order ZeroCarb LYFE crusts and up your pizza game!