Blog
Level Up Snack Time with ZeroCarb LYFE Chips
by ZeroCarb LYFE on Jun 06, 2023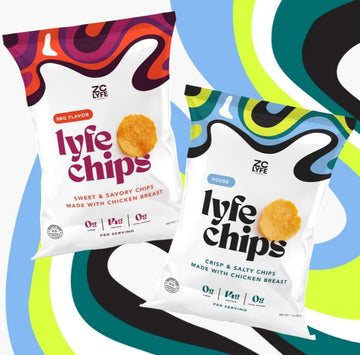 We've been keeping a BIG secret, and the time has finally come to share it with you…. Our ZeroCarb LYFE Chips are now available for pre-order!
If you're a person that has struggled to find the perfect snack food, we've got your back. Our team has been working tirelessly to create the perfect, carb-free, sugar-free snack for all of our snack-loving friends like us. And now… it's finally here! In ZeroCarb-like fashion, our new LYFE Chips are made with 100% chicken breast, all-natural ingredients, and come in two different flavors - house (crisp & salty) and BBQ (sweet & savory).
With 14 grams of protein per serving, these are the perfect savory and crunchy snack to help fuel your diet without feeling guilty. Need some ideas on how to enjoy your new favorite chips? 
Add them to your sandwich for that satisfying crunch.
Enjoy them as a side dish for a delicious tasting protein boost.
Take them to your family get-togethers and friend hang outs for an enjoyable, healthy option. 
And so many more! What ways do you plan to enjoy your new-found favorite chips? Pre-order your LYFE Chips today and prepare to uplevel your snack time.