Blog
ZeroCarb LYFE Story - Lacy
by Zero Carb on Nov 30, 2022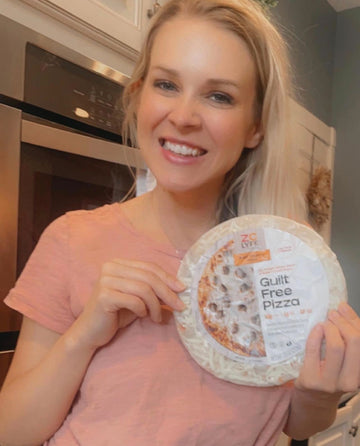 "It was extremely easy to add the ZeroCarb pizzas into our family meal plan."
For Lacy Wilson, ZeroCarb LYFE pizzas are a family affair! Lacy is a registered dietitian and mother of two teaching her daughters how to live a healthy lifestyle. Outside of parenting and concocting new recipes in the kitchen, Lacy is a former yoga instructor and a lover of all-things coffee.
As a mother of two, Lacy's family stays busy between softball practice and violin rehearsals. ZeroCarb's keto-friendly chicken crust and low-carb frozen pizzas allow Lacy to focus on her family while still serving healthy and filling meals. On a busy night following all practices, rehearsals, and homework Lacy says, "I bake the ZeroCarb beef pizzas and add fruit on the side for a quick, healthy meal." Her daughters love it, and it saves time. What more could an active mom ask for? Plus, with 37 grams of protein, you don't have to worry about getting your protein in for the day.
We love hearing about the creative ways our customers prepare meals with ZeroCarb LYFE crusts! Lacy shared some of the ways her family enjoys incorporating ZeroCarb's 4-ingredient crust (only chicken breast, olive oil, salt, and our secret mix of spices) into their meal plan. Some of their favorite meals to make include all kinds of wraps as well as picking their own toppings for a delicious pizza, a fan-favorite being ham and pineapple pizza.
"My personal favorite way to incorporate the crust is making wraps for my lunch. I thaw the crust while I'm working and put it in the skillet for a quick minute."
ZeroCarb's protein-packed pizza crusts keep Lacy and her family gathered around the dinner table. We appreciate Lacy sharing her family's ZeroCarb LYFE story with us! 
If our revolutionary pizza crusts have changed your life, we'd love to hear it! Click here to share your ZeroCarb LYFE story with us.