Blog
National Protein Day with ZeroCarb LYFE
by Zero Carb on Mar 06, 2023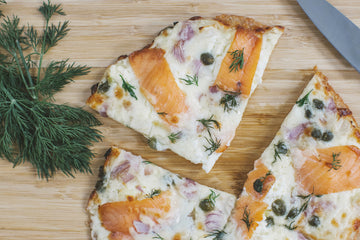 In light of National Protein Day on February 27th, let's talk about how protein is one of the most essential nutrients your body needs. 
Proteins are considered "building blocks'' for our health and are crucial to areas such as bones, muscles, cartilage, skin, blood, enzymes, hormones, and vitamins. Generally speaking, teenagers and adults should eat roughly 50g of protein per day (however it's important to remember that everybody is different, therefore, protein intake will vary from person to person). Our ZeroCarb LYFE frozen pizza crust contains 37g of protein, meaning you can get more than half of your daily protein intake with just one ZeroCarb pizza crust! 
Proteins, fats, and carbohydrates make up the three essential macronutrients needed in order for your body to function properly. This is why when ZeroCarb creator, Mohammed Aly, was looking for a clean and healthy recipe, he developed a protein-heavy innovative alternative to one of his favorite foods… pizza! Without sacrificing nutritional value and quality of taste, Mohammed soon found the perfect recipe that became the unbeatable, protein-packed ZeroCarb LYFE chicken-based pizza crust we have today. 
Created with only four ingredients - chicken breast, olive oil, salt, and spices - his intent for the crust was to maintain clean and nutritionally beneficial ingredients while also upholding a pleasant taste for everyone to enjoy… especially those with food sensitivities like celiac disease, lactose intolerance, or diabetes. Keeping it as simple as possible, Mohammed was able to create a healthy alternative to pizza for those wanting to stay on the right track with their diet, so they would not have to feel guilty about enjoying the foods they love. 
As we celebrate National Protein Day at ZeroCarb LYFE, we wanted to share the good news of how you can implement both a delicious and satisfying snack into your
high-protein
diet without sacrificing your tastebuds or one of your favorite foods, pizza. Check out the various
recipes
we have for creating appetizing meals that can help to keep you on track in your health journey. For a quick and easy meal, check out our newest product,
pre-made frozen pizzas
as well.