Recipes
Pineapple Veggie Pizza by Claire Ballard
by John Pena on Aug 11, 2022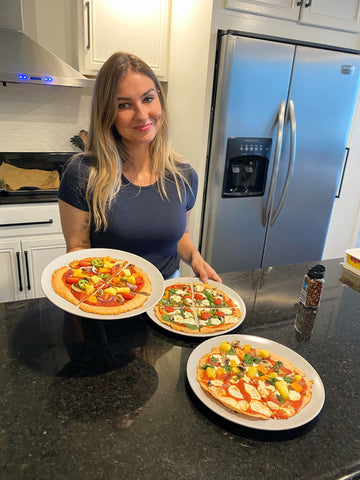 This recipe is a little controversial considering that it brings up the age-old question, Does pineapple belong on pizza? 
With our ZeroCarb LYFE Crust, we encourage you to try ANY toppings you want…including pineapple! During the summer months, a little fresh pineapple can serve as a sweet and refreshing twist to your favorite pizza. If you're looking for a spicy and sweet summer pizza recipe, this is it!
Here's what you'll need to create the perfect Pineapple Veggie Pizza…
- 1 ZeroCarb LYFE Frozen Pizza Crust
- ½ cup Pizza Sauce (of your choice)
- ¼ cup Chopped Mushrooms
- 1 Bell Pepper (orange, but any will work)
- ½ cup Pineapple
- ¼ cup Diced Red Onion
- ¼ cup Tomato
- Jalapeno to taste (Optional)
- Red Pepper Flakes (Optional)
First, grab your ZeroCarb LYFE Crust out of the freezer and let it thaw for 5-10 minutes. While the crust is thawing, preheat the oven to 500 degrees Fahrenheit. As you wait, you can gather the ingredients you will be using and begin chopping the vegetables to the size you prefer. (Optional: for a crispier crust, pre-bake the ZeroCarb LYFE Crust without any toppings for 5-8 minutes.)
To begin dressing your crust, evenly spread pizza sauce over the ZeroCarb LYFE Crust. Next, arrange the mushrooms, bell pepper, red onion, tomatoes, and jalapenos (if desired) onto the pizza. Finally, top the pizza with ½ cup pineapple if you are a "pineapple on pizza" person.
Place your pizza in the oven for 8-10 minutes to bake. When the pizza is finished, remove it from the oven and let it stand for 2-3 minutes. Once cool, sprinkle with
red-pepper flakes
to taste.
Enjoy your pizza! For more ZeroCarb LYFE recipes, click here.
Prep Time: 5-10 minutes
Cook Time: 8-10 minutes
1. Thaw your ZeroCarb LYFE Pizza Crust for 5-10 minutes while you preheat your oven to 500 degrees Fahrenheit.
2. (Optional) Place naked crust in the oven for 5-8 minutes for a crispier crust.
3. Chop, cut, or dice mushrooms, bell pepper, pineapple, red onion, tomato and jalapeno to preferred size.
4. After pre-baking the crust, spread your desired pizza sauce evenly over the crust. Then, add vegetables. (Be sure to add the pineapple last.)
5. Place pizza in oven for 8-10 minutes or until crust is golden brown on the edges.
6. Remove pizza from oven and let stand for 2-3 minutes.
7. (Optional) Top with red pepper flakes and enjoy!