Blog
Pizza Topping Trends in 2023
by Zero Carb on Mar 06, 2023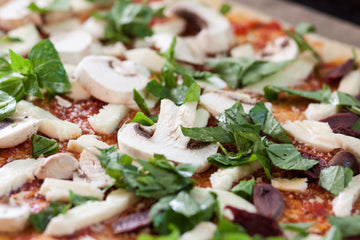 Are you ready to take your tastebuds on a thrilling ride in 2023? Our team sure is! We've been keeping our ears to the ground, and we're thrilled to share the latest and greatest pizza toppings of 2023 with you. We all know some trends come and go, but we believe these pizza toppings are here to stay. And the best part? With our nutrient-packed chicken crust, you can experiment with any topping your heart desires! Get ready to unleash your inner pizza artist with this year's pizza topping trends.
#1: Pickles
Pineapple who? Pickles are the new controversial pizza topping. We've been seeing pizzerias all over the country begin to put extra pickles on their pizza, and it has become the ultimate meal for pickle lovers everywhere. And who says you can't make an equally delicious garlic dill pizza from scratch with your ZeroCarb LYFE crusts? We know, this trend is a pretty big dill.
#2: Mushrooms
Mushrooms on salads are normal, but how about pizza? Mushrooms were named the Slice of the Union's 2022 pizza topping of the year. We take our pizza trend forecasting very seriously over here at ZeroCarb LYFE. The next time you want to up your pizza game with our keto-friendly chicken crust, try adding some mushrooms for a tasty, nutrient-dense topping.
#3: Ranch
We've got some delicious news for the ranch fanatics out there. In 2022, there was a whopping 9.7% increase in orders for ranch on pizza, and we can see why! Whether you're a fan of classic cheese or crave the fiery kick of buffalo chicken, ranch pairs flawlessly with every pizza imaginable. 
So… What are you waiting for!? Join the #ZeroCarbLYFE movement today! Our pizza crusts are frozen, ready-to-use, and can be kept for up to six months (but they won't last that long once you try them!) Click here to order ZeroCarb LYFE crusts and up your pizza game with these toppings!