Recipes
Garlic Shrimp Pizza
by John Pena on Dec 01, 2021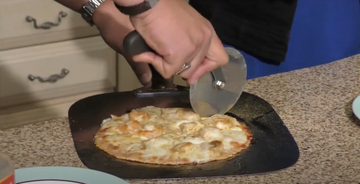 We've been receiving lots of questions about the pizza we made at King's Great Buys Plus in Evansville in our interview with Ange Humphrey and ABC 25 Local Lifestyles! If you're looking to create a unique and delicious gluten-free pizza recipe, the Garlic Shrimp Pizza is one of our favorites.
As Mohamed stated in the interview, "I'm not a traditional pizza maker. I always do crazy stuff." So today, we want to share with you the easy steps to create this savory, keto-friendly Garlic Shrimp Pizza!
Here's what you'll need:
- 1 ZeroCarb Pizza Crust
- 5 tbsp. garlic butter
- 1 cup mozzarella cheese
- ½ cup shrimp
- 1 tbsp. cumin
- 1 tbsp. Old Bay seasoning
Before you start, be sure to thaw your ZeroCarb Pizza Crust while the oven preheats to 450 degrees. Don't forget to place the remaining crusts back in the freezer. If you prefer a crispier crust, place the naked crust into your preheated oven for approximately 5 minutes before moving on. 
First, grab a small-to-medium size bowl and combine the shrimp, 2 tbsp. of garlic butter, cumin, and Old Bay spice—all of which perfectly fit into the keto diet. This seasoning mixture is what makes the Garlic Shrimp Pizza one of our favorite ZeroCarb recipes! Stir everything together until it is mixed well, and then set the mixture aside for later. Next, take the remaining garlic butter and spread it onto your ZeroCarb crust. Be sure to spread evenly to ensure those delicious flavors are found in every bite! Finally, take half of your mozzarella cheese and evenly distribute it over the crust and garlic butter. 
Now comes the fun part! Carefully place your seasoned shrimp onto your pizza. Place as many or as little as you prefer, but be sure to distribute them evenly. Then, top the shrimp with the rest of your mozzarella cheese. For an added punch of flavor, we recommend sprinkling on a little extra cumin over your ZeroCarb pizza before baking!
Finally, place your Garlic Shrimp Pizza in the oven for 8-10 minutes or until the cheese starts to brown. After the time has passed, pull the pizza out of the oven, let it rest for 2-3 minutes to cool, and then enjoy your warm and delicious Garlic Shrimp Pizza!
Prep Time: 10-20 minutes
Cook Time: 8-10 minutes
Thaw a ZeroCarb Pizza Crust for approximately 5-10 minutes while you preheat the oven to 450°F.
(Optional) For a crispier crust, place the naked crust in the oven for 5-8 minutes before dressing.
In a small bowl, combine shrimp, 2 tbsp. garlic butter, cumin and Old Bay seasoning. Mix well and set aside. 
Grab your ZeroCarb Pizza Crust and brush on the remaining 3 tbsp. of garlic butter, or until covered. Evenly spread ½ cup of mozzarella cheese on top of garlic butter. 
Place shrimp around the pizza to your liking. Then top with the remaining ½ cup of cheese.
(Optional) Sprinkle cumin on top of pizza to taste.
Bake pizza in oven for 8-10 minutes at 450° F or until cheese turns golden brown.
Remove pizza from oven and let sit for 2-3 minutes before serving.