Recipes
Roasted Veggie Pizza
by Zero Carb on Jan 30, 2023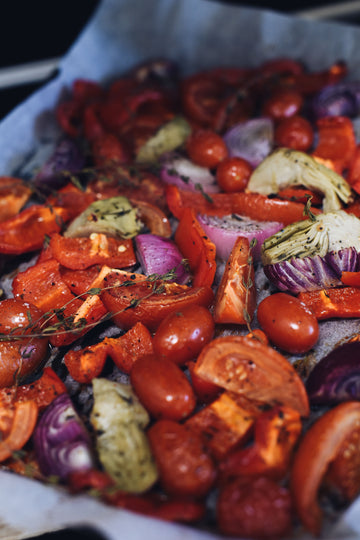 If your New Year's resolution is to eat healthier, we have the perfect pizza alternative for you! This roasted veggie pizza is loaded with nutritious foods and fewer carbs so you can enjoy your food without feeling guilty. 
Ingredients:
- 1 ZeroCarb Crust
- 1 oz pizza sauce of your choice
- 2 oz mozzarella
- 2 oz mixed vegetables of your choice
- 1-2 tablespoons olive oil
- Salt and pepper to taste
Begin by preheating the oven to 450-500 degrees Fahrenheit. Grab your ZeroCarb frozen pizza crust out of the freezer and gently separate the top crust from the rest of the pack (Option: let it thaw for 2-3 minutes). Once you have a crust, feel free to pop it in the oven bare for 5-7 minutes if you are a crispy crust lover, or bake some mozzarella into the crust for a cheesier tasting pizza. 
Before we dress the pizza, we first need to prepare the vegetables. Grab your favorite mix of vegetables (check out this Pineapple Veggie Pizza or this Veggie Topped Pizza for inspiration). Slice up your veggies and mix them with 1-2 tablespoons of olive oil and salt and pepper to taste. Place your vegetables on a pan and bake them in the oven for 5-8 minutes.
While your veggies are in the oven, spread your favorite pizza sauce evenly on top of your ZeroCarb chicken-based pizza crust. Sprinkle the mozzarella cheese on top. Once your vegetables are done roasting, add them on top of the pizza and place the entire pizza in the oven for 6-9 minutes, or until the cheese is a golden brown. 
Prep Time: 15 minutes | Cook Time: 10 minutes | Total time: 25 minutes
Directions:
Preheat your oven to 450-500 degrees
Mix sliced vegetables with olive oil and salt and pepper
Place vegetables on pan and place in oven for 5-8 minutes to roast
Add pizza sauce to crust and sprinkle mozzarella cheese on top
Remove vegetables from oven and add to pizza 
Place pizza on parchment paper or pizza pan for 6-9 minutes or until cheese is golden

brown