Recipes
Breakfast Pizza
by John Pena on Mar 17, 2022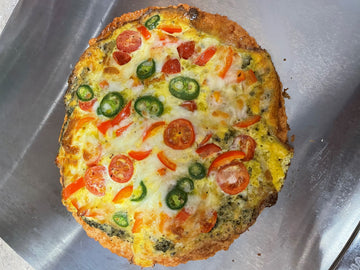 Pizza for breakfast? Yes, please! Especially when you can enjoy a delicious, carb- and gluten-free pick-me-up to start the day. You're only five steps away from a fun and easy meal that will have the kids (or yourself!) springing out of bed and running to the breakfast table! We have no doubt that this veggie pizza will become your morning recipe go-to.
Ingredients:
  -  1 8" ZeroCarb Pizza Crust
  -  1 egg
  -  1/2 cubed Roma tomato
  -  1 small serrano pepper (optional)
  -  1/3 cup of diced red bell pepper
  -  Pinch of salt and pepper, to taste
  -  Pinch of cumin
  -  1 tsp of your favorite pesto sauce, or any sauce you prefer
  -  1/2 cup mozzarella cheese 
First, you'll want to get your ZeroCarb Pizza Crust out of the freezer to thaw while the oven is preheating to 450°F. Once the oven has reached the desired temperature, place the bare pizza crust into the oven for approximately six minutes, or until the edges begin to crisp. Remove crust from the oven and place it on a piece of parchment paper.
Next, crack the egg into a bowl and whisk it with the rest of the ingredients—Roma tomato, serrano pepper, red bell pepper, salt and pepper, cumin, pesto (or preferred sauce), and cheese. Add the mixture to the semi-baked crust and then put it back into the oven for another 6-7 minutes, or until the cheese begins to brown.
Carefully remove the pizza from the oven and let it cool for several minutes—if you can wait that long! 
Prep Time: 10-12 minutes
Cook Time: 6-10 minutes
Thaw your ZeroCarb Pizza Crust while preheating the oven to 450°F. Be sure to let the crusts thaw slightly before separating and pull from the paper to separate. For a crispier texture, place crust on a pizza pan or parchment paper for 6 minutes, or until the crust begins to crisp around the edges. Then remove from the oven. 
Crack the egg into a bowl and whisk it with the spices, veggies, sauce, and mozzarella. 
Add the mixture on top of the ZeroCarb Pizza Crust. 
Place the crust with toppings on parchment paper and place it on the oven rack for about 6-7 minutes or until the cheese begins to brown. 
Remove pizza and let sit 3-5 minutes to cool before enjoying.