Blog
New Year, New LYFE-Style: Healthier Eating Habits for 2022
by John Pena on Jan 13, 2022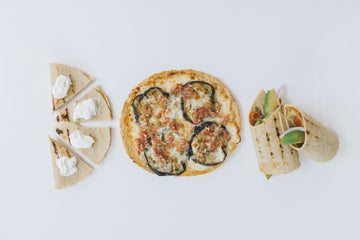 Adopting a healthier eating lifestyle doesn't have to be challenging or confusing. With a few simple changes and substitutions (in both food and habits), taking the wholesome route can be easier than you might imagine!
One big change has to do with your mindset. It's important to make a shift in your thinking from "I'm going on a diet" to "This is a lifestyle." It's possible to lose weight in many ways, so you need to have goals and motivating factors besides just weight loss. Think about the positive changes that you want for your long-term health… for example - reduced inflammation (the underlying cause of many chronic health issues), improved glucose levels (imperative for diabetics), or reduced factors for heart disease (about 50% of Americans are at risk). These are all great reasons to make a change.
Another helpful tip is assessing your current grocery list items and making swaps when you run out of something. Such as finding low sugar versions of condiments, making zucchini fries instead of regular fries, switching out pasta for spaghetti squash or shitake noodles, and putting that burger on a low-carb roll or egg bun. A really simple way to sub out tortillas, pizza crusts, wraps, and pitas is to use ZeroCarb LYFE crusts that have, you guessed it, ZERO carbs! Keep a stash in the freezer, and you'll always have them at the ready for a multitude of delicious recipes. You won't even miss the regular versions!
Meal planning can really help because you'll have a plan in place and won't succumb to a last-minute, fast-food, drive-thru dinner. A quick Google search will turn up a multitude of free, printable meal planners, as well as more customizable plans for purchase. But the end goal is the same… no more wondering, "What am I going to fix for dinner tonight?" And as a bonus, there are quite a few crockpot recipes available to make it easier! Slow cooker red wine beef brisket with asparagus, anyone?!
If you need some moral support for your new lifestyle (we get it, but not everyone does), we're happy to invite you to join the #ZeroCarbLYFE movement and get involved in the conversation. To hear about more real-LYFE stories and experiences with a low-carb eating plan, you can find us on Facebook and Instagram, and follow along with our inspirational blog posts (like this one!). It's so much easier to stick to your goals when you have support than trying to go it on your own. We're here through the thick and thin (literally!), and we want to hang out and cheer you on in the weeks and months ahead. It's all about helping people, seeing their happiness, and promoting healthier lifestyles. If you have a ZeroCarb LYFE story of your own, we'd love for you to share it with us!