Blog
Successful Schnucks Supermarket Launch for ZeroCarb
by John Pena on Jun 23, 2022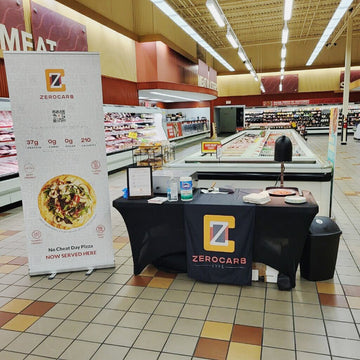 ZeroCarb LYFE has experienced extreme growth in the first few quarters of 2022. Our team is proud to report that the test launch of our partnership with Schnucks Supermarket was a HUGE success! This launch was an opportunity to demonstrate the demand for our ZeroCarb crusts, frozen Beef pizza, and frozen Buffalo Chicken-style pizza. And we would say we surpassed our goal… and then some.
We were humbled by the response from those in the Greater Evansville, Indiana area who came out to Schnucks to shop in the first week. We saw sales numbers much higher than expected. But then Week 2 came along, and the sales almost doubled. (We're thinking you came back for seconds!) Thanks for helping us crush our sales goals and be one of the best-selling local brands Schnucks has seen!
The demand for ZeroCarb has shown impressive results of 7x our expected goal within the first month! Dedicated ZeroCarb crews were handing out free samples and introducing these revolutionary products to our hometown and the local area. Don't worry… it's not too late to grab a sample as our crews are still visiting Schnucks stores across the tristate on Saturdays and Sundays. Stop by your favorite neighborhood store, snap a picture with your purchase and send it our way!
Sharing our one-of-a-kind crust that makes health-conscious eating easier (and now easier to purchase) is pretty darn exciting! And needless to say, the freezer aisle is a great place to hang out on these sweltering hot summer days.
Speaking of summer, if you have kids at home and are constantly on the lookout for healthy snacks, it's simple to use a crust to bake up some tortilla chips for dipping or nachos. Or create your own wrap or quesadilla. You control the dips and the toppings, so the possibilities are endless. How about an easy-breezy veggie pizza using some freshly made pesto, shredded mozzarella, mushrooms, and black olives for a tasty treat?
We really are excited about what the future holds for ZeroCarb LYFE and there are a lot more innovative chicken-based products headed your way. You guys are the best and your kind words and support keep us motivated to continue bringing you the best ingredients in the best ways possible. Thanks to our amazing Evansville community and look for some very exciting announcements that will impact our customers across the country!