Recipes
Salmon/Lox Pizza
by John Pena on May 18, 2021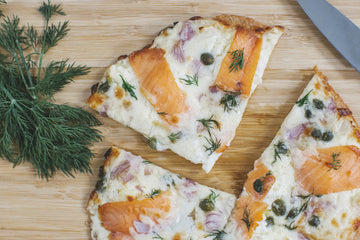 👨‍🍳 Prep time: 5 minutes | 🕑 Total time: 13 minutes | 🍴 1 Serving
As we transition into spring, we thought it would be appropriate to offer you a delicious, spring-inspired ZeroCarb recipe! It's vibrant, colorful, and bursting with flavors that will make you wish you were relaxing oceanside. Introducing…the Salmon/Lox Pizza!
One taste and you'll be recreating this ZeroCarb pizza for all your springtime activities—spring cleaning, relaxing in the sunshine, or any exciting get-togethers you have planned. Here's how to build it yourself:
First, grab your ZeroCarb Pizza Crust and preheat your oven to 450° F. You may need to let your gluten-free crust thaw for 5-10 minutes before removing it from the pack. Don't forget to place the remaining crusts back in the freezer after you've separated one!
Note: for a crispier crust, bake at 450° F for 6-8 minutes before adding toppings.
Next, grab your garlic sauce and mozzarella cheese. Brush the garlic sauce onto your protein-based ZeroCarb Pizza Crust, making sure it's evenly spread across the crust. Sprinkle the keto-friendly mozzarella cheese around the entire pizza until evenly distributed. When finished, get your cream cheese and cut into 4-6 squares. Roll each square into a ball. Then, place the balls of cream cheese around the crust, creating a circle around the center. Add a slice of smoked salmon or lox onto each of the cream cheese balls. Some find smoked salmon to be too strong. Consider using lox—cured salmon that hasn't been smoked—instead for this delicious, diabetic-friendly pizza!
Next, mix the capers and red onions into a bowl before distributing the mixture on top of the pizza. You're now ready to bake! Place your ZeroCarb pizza on a cooking sheet or pizza stone and put it in the oven for about 8 minutes—or until the cheese begins to brown.
Remove your pizza from the oven and top it with fresh dill for added flavor. Your Salmon/Lox Pizza is now ready to eat!
Ingredients
1 ZeroCarb Pizza Crust

1 oz garlic sauce

4 oz plain cream cheese

4 oz sliced smoked salmon or lox 

1.5 oz diced red onion

1.5 oz capers

1 tsp fresh dill

¼ cup mozzarella cheese
Directions:
Thaw your ZeroCarb Pizza Crust for 5-10 minutes while you preheat your oven to 450° F.

Brush the crust with garlic sauce and sprinkle the mozzarella cheese on top to create your base.

Create 4-6 cream cheese balls and place them around the crust going into the center. Then place a slice of smoked salmon or lox onto each of the cream cheese balls.

Spread the caper and red onion mixture on top of the pizza.

Place pizza in oven for 8-10 minutes or until cheese turns golden brown.

Remove pizza from your oven and top with fresh dill.

Let pizza sit for 3-5 minutes before enjoying!