Recipes
Garlic Bread
by zerocarb Admin on Apr 13, 2021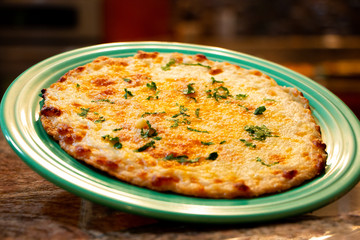 👨‍🍳 Prep time: 5 minutes | 🕑 Total time: 13 minutes | 🍴 1 Serving

Did you know ZeroCarb Pizza Crusts also make a superb garlic bread? That's right! Next time you're feeling burnt out on ZeroCarb pizza (like that would ever happen), try our Garlic Bread recipe and enjoy the same ZeroCarb Pizza Crust without compromising flavor. You'll be saying YUM!
Here's what you'll need to create our protein-based ZeroCarb Garlic Bread:


Ingredients
1 ZeroCarb Pizza Crust

¼ cup clarified butter

2 cloves of fresh garlic

¼ cup shredded sharp cheddar cheese

½ cup mozzarella cheese (great for those on a keto diet!)

1 tbps grated parmesan cheese

¼ cup marinara sauce (or any dipping sauce you prefer)

1 tbps fresh chopped parsley
Directions:
 Blend the clarified butter and the fresh garlic until it becomes a smooth sauce. Make sure that no chunks of garlic remain.

Preheat oven to 450 degrees Fahrenheit

Brush your gluten-free crust with the garlic sauce and then add keto-friendly mozzarella cheese. Top it with shredded sharp cheddar cheese.

Bake for 8 minutes. When you remove the garlic bread from the oven, sprinkle grated parmesan cheese and fresh chopped parsley. 

Dip it in your favorite sauce and enjoy!
There you have it. We can't get enough of this ZeroCarb Garlic Bread here at our Evansville-based headquarters. The next time you're looking for the perfect keto-friendly and diabetic-friendly snack, try our Garlic Bread or one of our many other ZeroCarb recipes!