Blog
ZeroCarb LYFE Story—Michele Herman
by John Pena on Jun 16, 2021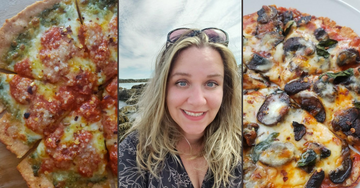 "Where have you been all my life?! High quality, four ingredients, all of the good & none of the bad!"
When wanderlust woman and foodie fanatic Michele Herman discovered our ZeroCarb Pizza Crust, it opened up her culinary pizza world in a way she never thought possible. "I am sincerely having SO MUCH FUN coming up with creative pizza toppings!" Michele said.
Over the past few years, Michele noticed her body becoming more sensitive to certain foods—gluten, specifically. Forced to give up some of her favorite meals, she knew sacrifices had to be made in order to save herself the GI discomfort.
GI (gastrointestinal) diseases or disorders are digestive conditions which disrupt or cause discomfort within the GI tract. There are two types of GI disorders—functional and structural. Functional GI disorders are the most common, occurring when the GI tract appears normal when examined but doesn't function correctly. Structural GI disorders are less common, occurring when there is an abnormality (ulcers, hemorrhoids, cancer, etc.)within the GI tract. These disorders often make finding non-disruptive foods exceptionally challenging.
However, with the help of ZeroCarb pizza, Michele was able to reclaim her joy for mouthwatering pizza without experiencing the discomforting side effects often caused by a traditional crust. Our diabetic-friendly pizza crusts are made from chicken breast, meaning they can be enjoyed by those with gluten-free dietary restrictions and those on the keto diet.
"It feels like a gift every time I can eat a pizza that I know tastes terrific, is high in protein, and my tummy won't rebel," Michele said.
Michele enjoys her culinary creations with our zero-carb alternative pizza crust as her canvas. She never goes a day without ZeroCarb Pizza Crusts in her freezer, and she loves sharing them with her friends and family, because "when you discover something this good, it would be selfish to keep it to yourself."
You can find Michele on Instagram @micheleherman to follow her adventures in travel, food, fitness, love & life.
If you've had a life-changing experience with our ZeroCarb Pizza Crust and would like to share your ZeroCarb LYFE story with us, complete our testimonial survey today!