Blog
ZeroCarb LYFE Story—Kitty Lyons
by John Pena on May 27, 2021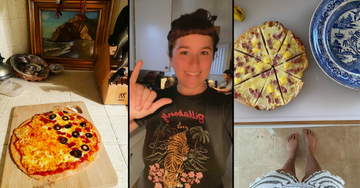 As a soon-to-be Whole30 coach, Kitty Lyons discovered her love of food through Whole30 Instagram chefs. Being both glute free and dairy free, finding non-bland and non-inflammatory foods was always a challenge for Kitty. However, after quickly picking up on the DOs and DON'Ts of whole foods, she dove into a happier and healthier food-style. She now educates and encourages other women on how to achieve their dreams in clean eating and food freedom through the Whole30 program.
It's just a guideline to set my clients' bodies into a vibrancy toward achieving their wildest dreams!
For Kitty, cooking has provided her with an incredible healing journey and creative outlet. Although her father was a chef, she was never trained in the culinary arts. As a first-time mom, she decided to start cooking for her growing family.
As a new mom I began to cook food in a way I never had before—for three people who needed to not just eat and be filled, but to THRIVE.
With a new perspective on food, she not only provides nourishment to her husband, child, and herself, but she also prepares meals to help them prosper in their day-to-day lives.
Finding food to fit her low-carb, protein-based, keto-inspired diet was challenging. Zero-carb alternative pizza crusts did not taste like pizza to Kitty, so finding a gluten-free pizza crust with 41g of protein, 0 carbs, and 0 sugars made ZeroCarb Pizza Crust worth trying for her nutritional lifestyle. Unlike typical keto-friendly pizza crusts, the ZeroCarb Pizza Crust features only four ingredients and excludes any gluten, dairy, and grains…a perfect fit for Kitty.
Discovering ZeroCarb Pizza Crusts felt like she "had died and gone to heaven," Kitty said. "I had a religious experience with the crunch and crispiness—the mouthfeel so similar to thin pizza crust—the mild yet familiar pizza-like quality, and the fact that I could actually eat something that REALLY TASTES LIKE PIZZA!"
ZeroCarb Pizza Crusts are the gift that keeps on giving for Kitty and her family. With her father's anti-inflammatory diet, he is not allowed to eat regular pizza. He's also undergoing knee surgery soon, and has expressed that he wants ZeroCarb Pizza Crusts for his "easy recovery food." Kitty and her family are truly living the ZeroCarb LYFE.
It just goes to prove that when you put your mind to it, the unimaginable becomes a crispy, amazing, delightful reality!
We would like to thank Kitty for sharing her ZeroCarb LYFE story with us! You can follow her on Instagram @whole30withkitty. Would you like to share how our diabetic-friendly ZeroCarb Pizza Crusts have changed the pizza game for you? Reach out to the ZeroCarb LYFE team on social media or our website, and we'll send you our LYFE survey!