Blog
ZeroCarb LYFE Story—Chef Mohamed Aly
by John Pena on Jul 30, 2021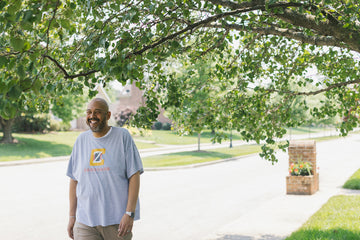 Say hello to ZeroCarb Co-founder and Chief Creative Officer, Mohamed Aly!


Mohamed is a diabetic and keto lover who discovered the perfect way to give the gift of pizza to those who can't typically indulge. From immigrating to the U.S. and creating the perfect zero-carb, zero-sugar pizza crust recipe, to owning his own restaurant and building a brand, Mohamed's story is anything but boring.

When Mohamed immigrated to the U.S. from Egypt in 2001, he found a job in Chicago working in a pizzeria. It was then that his sister asked him if he could make her a low-carb pizza that she could enjoy without having to worry about her diet. His first pizza was anything but successful, but Mohamed was determined to find a good foundation of ingredients for his zero-carb pizza crust. Creating a simple, clean recipe has always been important to Mohamed. Throughout this process, he discovered that many foods today are filled with GMOs, chemicals, and other add-ins that decrease the food's natural health factor. That's why ZeroCarb Pizza Crust is made up of only four ingredients—chicken, olive oil, salt, and spices! Clean, simple, and delicious—and ensured to be diabetic friendly!

In 2010, Mohamed's cousin and business partner got on board with this "million dollar idea" of his—a zero-carb, zero-sugar pizza crust that allows others (such as diabetics, those who suffer from celiac disease, and non-celiac gluten-sensitive individuals) to enjoy the universal love language of pizza. Not only did Mohamed and his cousin see the pizza crust as a health benefit for people with food sensitivities, but they also found that it was healthier than traditional pizza crust and tastier than alternative gluten-free crusts.

Being the risk-taker he is, Mohamed quit his job at the pizzeria in Chicago and opened his own restaurant where he sold his specialty pizza crust in various forms. It was then that he witnessed individuals with food sensitivities and health issues fall in love with his protein-based pizza for the first time. Giving his customers the gift of delicious keto-friendly pizza, Mohamed knew he could change lives with his idea.

"It's about helping people, seeing their happiness, and promoting healthier lifestyles," he said.



After finding success and growing his number of loyal customers, Mohamed experienced hardship. He lost several family members in the same year—a life event that would be difficult for anyone, especially being an immigrant and new business owner. Mohamed was forced to close the restaurant. A few years later, Mohamed found himself at rock bottom. After grief and depression nearly consumed his life, he became unhealthy, unhappy, and overweight. In need of a new beginning, he called his cousin and agreed to meet with a business coach and recommit to the dream he once had. It was also during this time that he started his keto diet to become healthier and get back to his vision for life.
While building towards a better life, Mohamed moved to Evansville, Indiana to partner with the team that formed the ZeroCarb brand and the ZeroCarb LYFE community that has grown rapidly on Facebook and Instagram.


Life took a quick shift back to the positive, and since then Mohamed has been on the entrepreneur's path of promoting his product, networking, and partnering with other businesses in the area. Happy to start his new life in a supportive community like Evansville, Mohamed is focused on giving back to others. Whether you're diabetic, participating in the keto diet, or looking for a healthier lifestyle, Mohamed wants to add just a sprinkle of happiness back into your life by allowing you to enjoy pizza again without compromising your health. Thank you, Mohamed, for sharing your ZeroCarb LYFE Story and bringing happiness to your coworkers, friends, and everyone around you!