Blog
ZeroCarb LYFE Story—Katie Cahnmann
by John Pena on Oct 28, 2021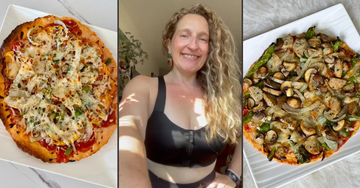 Like many of us, health and fitness junkie, adventure-seeker, and crisis counselor Katie Cahnmann took up a new hobby amidst the pandemic—health and fitness! She quickly became a wellness enthusiast who was inspired to become the best, healthiest version of herself. We love it! By changing her nutrient intake, becoming more conscious of what she ate, and finding workouts that were enjoyable for her, Katie ended up losing over 30 pounds. She's also set a fitness goal of completing 5 unassisted pull-ups, and she's already halfway there! 
Katie is a woman of many talents. Not only does she perform strength training 5 days a week while incorporating high-intensity interval training (HIIT) workouts, but she also enjoys rock climbing, stand-up paddle boarding, and hiking when possible. On top of all that, Katie works in the nonprofit world while maintaining a freelance side hustle, and she volunteers as a crisis counselor for the crisis text line. In case you were wondering—Katie is a busy woman!
Her appreciation for food has always been prevalent, but she wasn't always aware of how to make the best eating choices. Since Katie has become more serious about her health, she has discovered ways to become more creative in her diet by cooking delicious and nutritious ZeroCarb recipes. "It's important to me to eat smart but also enjoy what I eat, so I love coming up with unique and healthy recipes," she says.
Katie follows a protein-based, low-carb, low-sugar diet. Like many individuals, she suffers from thyroid-related issues—including hypothyroidism and Hashimoto's disease—so it's imperative that she maintains a gluten-free diet. Combined with her commitment to living a healthier lifestyle, this made finding the ZeroCarb Pizza Crust a true gem in Katie's world of healthy eating.
"With ZeroCarb Pizza, I can still enjoy pizza without the guilt. Plus it gives me a great foundation to get creative in the kitchen."
When Katie first heard about ZeroCarb, she was excited to find a pizza crust that included 0 carbs, 0 sugars, and was gluten free. Pizza wasn't something she would let herself enjoy often due to the lack of nutritional value and being carb and calorie heavy. However, with ZeroCarb Pizza Crusts, Katie can now indulge in a delicious, protein-packed pizza whenever she desires. Made with only four ingredients (chicken, olive oil, salt, and spices), ZeroCarb Pizza Crusts are the perfect fit for her diet!
"I feel like I can finally enjoy pizza without any guilt or worry about putting ingredients in my body that are not good for me."
Thank you, Katie, for sharing your awesome ZeroCarb LYFE story with us! We appreciate you! You can follow Katie on Instagram at @appetite_4_adventure, and be sure to check out all her delicious, mouthwatering food photos that will have you inspired to create your own healthy dish!
Are you like Katie—feeling guilty every time you try to enjoy pizza? If so, then we invite you to try our one-of-a-kind, protein-packed, zero-carb, zero-sugar, zero-guilt pizza crust! Click here to purchase your ZeroCarb Crust Pack today!