Blog
ZeroCarb LYFE Story—Ali Kaid
by John Pena on Aug 31, 2021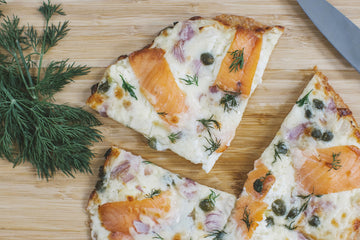 Have you ever wanted to go on a diet, but didn't want to sacrifice the delicious foods you enjoy the most? That's exactly how fellow Evansville-based ZeroCarb LYFE follower Ali Kaid felt before finding the ZeroCarb Pizza Crust.
Ali is recent bride (congratulations!) and an active mother of her 14-year-old son. Like the ZeroCarb LYFE family, she shares our love of pizza and healthy living. Ali's healthy lifestyle choices include challenging herself at Orangetheory Fitness and participating in kickboxing classes at iLoveKickboxing—all while creating delicious and nutritious ZeroCarb recipes she can savor without sacrificing taste.
"[I'm] Always looking for ways to eat foods I love, only with a little less of what I don't love."
When Ali found ZeroCarb, her interest piqued knowing that she could enjoy a scrumptious gluten-free pizza without feeling guilty. Even though she doesn't suffer from any food sensitivities, Ali still wanted to make a healthy lifestyle decision to cut back on carbs without sacrificing two of her favorite things: food and flavor! When she found the ZeroCarb Pizza Crust, she was surprised at just how enjoyable and versatile a chicken-based, keto-friendly pizza crust could be. 
"[The ZeroCarb Pizza Crust] really tasted awesome!... I don't know what I was expecting, but I wasn't expecting it to taste how it did."
After the first bite, Ali was hooked on ZeroCarb pizza! Her favorite thing about the crust is the fact that it's keto friendly, made with just four ingredients! Even though she doesn't stress over carbs, Ali is always looking for ways to cut back on them while still enjoying food she loves. With ZeroCarb Pizza Crusts, she no longer feels "guilty" ordering a pizza and is free to indulge in other areas of nutrition.
Thank you, Ali, for sharing your ZeroCarb LYFE story with us! You can follow her story and delicious-looking meals on Instagram @aboveaverageali.