Blog
Who Has the Best Gluten Free Pizza Crust?
by Zero Carb on Mar 02, 2023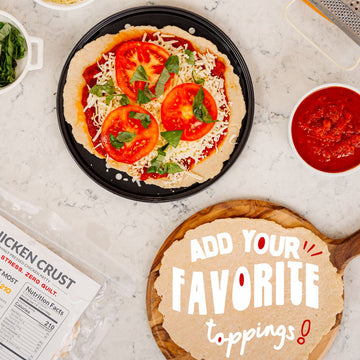 Opinions on who has the best gluten free pizza crust vary widely among those living a gluten free life. In the past, picking the "best" brand in this category was disheartening. It always felt like you had to sacrifice somewhere between flavor and ingredients. Maybe you find one that tastes like a traditional curst, but it has 20 ingredients you can't pronounce. Or perhaps you find one with a concise ingredient list, yet the flavor reminds you of wet cardboard.
Fortunately for those on gluten free diets, it's getting easier to find the best gluten free pizza crust due to higher demand. Studies show that celiac disease's true prevalence, detection, and diagnosis have increased over the past couple of decades. Plus, more and more folks without celiac disease or gluten sensitivity are choosing to follow a gluten free diet––in the U.S. alone, these people represent 20% to 30% of the population.
With that in mind, let's take a look at some of the big names in the gluten free pizza crust industry, so you can find the best one to appease your cravings.
Best Gluten Free Pizza Crust: Store Bought Edition
Don't read this list when you're hungry! Here are some of the most well-known gluten free pizza crusts available on the market today. We've compiled the ingredients* and key selling points for each brand, so you don't have to spend that hour in the grocery store comparing nutrition facts. 
1. ZeroCarb LYFE Gluten Free Pizza Crust
Most gluten free products are severely lacking when it comes to protein content, but not ZeroCarb LYFE's gluten free pizza crust. With 37 grams of protein in one serving, these chicken crusts will leave you feeling full and satisfied. Those following a ketogenic or diabetic-friendly diet can also enjoy this gluten free option, as it has zero carbohydrates.
2. Trader Joe's Gluten Free Pizza Crust
•
Ingredients
: Cauliflower, Cornstarch, Rice Flour, Chickpea Flour, Sunflower Oil, Thickeners (Guar Gum, Xanthan Gum), Salt, Psyllium Fiber, Potato Fiber, Sugar, Yeast
You can only find Trader Joe's frozen gluten free pizza crust at Trader Joe's, an American grocery store chain. Their pizza crust doesn't contain any gluten offenders—like processed wheat, wheat flour, and malt—and uses cauliflower and chickpea flour to mimic a pizza crust. However, one serving packs 33 grams of carbohydrates, so you'll likely face an energy crash after your pizza feast. 
3. Udi's Gluten Free Pizza Crust
• Ingredients: Tapioca Starch, Brown Rice Flour (Rice Flour, Rice Bran With Germ), Water, Canola Oil, Egg Whites, Cane Sugar, Tapioca Maltodextrin, Salt, Xanthan Gum, Yeast, Cultured Corn Syrup Solids, Citric Acid, Enzymes
Udi's has been on the gluten free scene for a while now, but reviews on their website describe their pizza crust with words like "cardboard" and "flavorless rice paste." It can also quickly spike your insulin and blood sugar levels due to the tapioca starch's high glycemic index. Although Udi's gluten free pizza crust may be a familiar product, other companies seem to have made greater strides int he taste and ingredients departments.
4. Bob's Red Mill Gluten Free Pizza Crust Mix
•
Ingredients
: Mix: Whole Grain Brown Rice Flour, Potato Starch, Whole Grain Millet Flour, Whole Grain Sorghum Flour, Tapioca Flour, Potato Flour, Sugar, Xanthan Gum, Salt, Guar Gum; Added Ingredients: Water, Egg, Yeast Packet (Yeast, Sorbitan Monostearate, Ascorbic Acid), Olive Oil
Bob's Red Mill has a gluten-free pizza crust mix for those who have the time to prepare a pizza crust from scratch (well, almost from scratch). Nutrition-wise, this crust doesn't do much better than its competitors—you'll get 24 grams of carbs, 1 gram of sugar, and only 2 grams of protein. After all that hard work making the pizza dough, you'll probably still be hungry when it's gone.
5. Schär Gluten Free Pizza Crust
• Ingredients: Corn Starch, Rice Flour, Sourdough (Rice Flour, Water), Water, Potato Starch, Rice Starch, Corn Flour, Corn Syrup, Yeast, Modified Cellulose, Dextrose, Extra Virgin Olive Oil, Sunflower Oil, Psyllium Seed Husks, Iodized Salt, Ethanol, Soy Protein; Raising Agents: Glucono Delta-Lactone; Baking Soda; Tartaric Acid, Citric Acid
Schär makes a gluten free pizza crust, but the ingredients are highly processed. You won't find much protein in this pizza crust either—only 2 grams, in fact. If you're trying to stick to a diabetic or low-carb diet, this one probably isn't the best option with 32 grams of carbs.
So…Who Makes the Best Gluten Free Pizza Crust?
ZeroCarb LYFE has the best gluten free pizza crust by far, making an impossible meal for many into a delicious reality. As you've seen in this list, most gluten-free pizza crust options are high in carbs, low in protein, and chock full of binders, fillers, and other unpronounceable ingredients. And really, that's just not acceptable anymore. The gluten free community deserves healthy options with transparent ingredient lists and top-tier flavors. 
This is what ZeroCarb LYFE brings to the table. Chicken breast, olive oil, salt, and spices—these four simple ingredients make one of the tastiest pizza crusts available today. Whether your health requires you to avoid gluten or you just want to eat delicious pizza, ZeroCarb LYFE chicken crusts are the way to go. Order some today and taste them for yourself. If you don't feel like making sauce and toppings, get one of our prepared gluten free pizzas instead!
*All ingredients in this blog were verified on January 27, 2023. Ingredients are subject to change. Please verify all nutritional information before consuming any of these products.