Blog
😍🍕National Pizza Day 🍕😍
by John Pena on Feb 01, 2022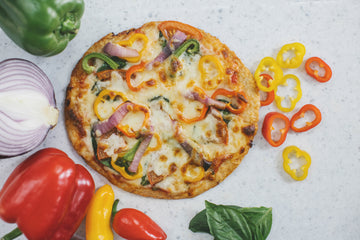 National Pizza Day is the new Day of Love… or at least, we think it should be! 
On February 9th, pizza lovers across the country (including us) will come together to celebrate National Pizza Day. Then, just 5 days later, couples across the world will celebrate their love on Valentine's day. Have you ever seen a pizza emoji without being followed by a heart eyes emoji? 🍕😍 Stats show that 57% of Americans say they love pizza, and 50% celebrate Valentine's Day, so… Pizza-tine's Day (?) sounds like a win-win to us!
If you're a pizza lover, then you can thank the Italians who began creating them back in the early 1500s. Legend has it that in 1889 after the unification of Italy, King Umberto I and Queen Margherita visited Naples. Tired of the French cuisine she usually ate, the Queen tried several pizzas, but "pizza mozzarella" was her favorite. Its white cheese, red tomatoes, and green basil resembles the Italian flag and now bears her name as Margherita pizza.
It's hard to imagine that pizza wasn't well-known outside of Italy until after World War II. But when Italian immigrants settled in New York, they continued to make their delicious flatbreads. They came to work in factories but actually made a substantial culinary impact on America. (Pizza is the #2 most popular fast food in the U.S.!)
As we celebrate these holidays, here are a few fun facts you might not know:
🍕   Valentine's Day was declared a holiday in 1537, right about when pizzas were created (Coincidence? We think not!)
🍕   30% of Americans eat pizza at least once a week
🍕   350 slices of pizza are sold every second in the U.S.
🍕   Pepperoni and sausage dominate the favorite topping list, followed by (in order) mushrooms, bacon, onions, green peppers, black olives, Canadian bacon, and pineapple
🍕   Speaking of pineapple, Canada has bragging rights to Hawaiian Pizza. Sam Panopolous relocated there from Greece and created the iconic pizza in 1962
🍕   Over $1 billion worth of chocolate is purchased for Valentine's Day in the U.S. (at least try to make yours a healthier dark chocolate version!)
With Valentine's Day just around the corner, a romantic pizza party for two might just be the perfect date idea. Or if you can't find a sitter, make it a family pizza night! Want to know the best part? With ZeroCarb LYFE crusts not only can you indulge in pizza without worrying about carbs, but ZeroCarb crusts make it super easy for anyone to choose their favorite toppings. With a small V-cut, you could easily turn one into a heart-shaped treat! Who says you're not romantic?
Another way to celebrate National Pizza Day is to have pizza for all 3 meals! Using ZeroCarb LYFE crusts, whip up a tasty breakfast pizza with eggs and sausage; make a lunchtime 'za with shredded chicken and spinach; and dinner gets everyone's favorite pepperoni (251 million pounds of pepperoni are sold each year, most of it served on pizza!).
However you choose to celebrate, we can all agree that love makes the world go 'round, and we're here to spread the #ZeroCarbLYFE love far and wide! Do you have a ZeroCarb "love" story? We'd love for you to submit a ZeroCarb LYFE Testimonial and tell us all about it!