Blog
ZeroCarb LYFE Story - Caitlyn
by John Pena on Mar 08, 2022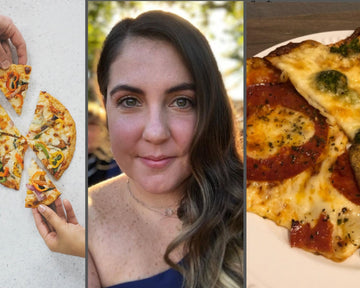 "Seasoned, satisfying, and memorable." That's how one ZeroCarb LYFE follower describes her irresistible culinary creations.
Caitlin, also known as @simpleeatsphilly on Instagram, is a full-time education teacher and compliance monitor in Philadelphia, as well as a full-time mom to a 3 ½-year-old. She's also a full-time foodie! When she's not whipping up appetizing delights or taking perfect pictures of her favorite dishes for Instagram, Caitlin enjoys traveling to new places, trying new foods, reading a good book, and watching movies.
Cooking at home is Caitlin's preference, and her most-requested dish is egg rolls (cheesesteak or buffalo chicken).  Her love of the kitchen began in childhood while cooking with her family. She still draws inspiration from those years of making her family's favorite recipes along with IG videos. 
Like many of us, March 2020 led Caitlin to develop a closer connection with food. She was particularly intrigued to find a chicken-based crust that contained only 3 additional ingredients — olive oil, salt, and spices.
"I discovered ZeroCarb LYFE while I transitioned into food freedom after a Whole30 reset. I love pizza and so does my family! I feel like I can enjoy pizza more with the chicken crusts and not feel as bloated."
Being able to fully enjoy pizza that 1) doesn't cause bloating and 2) adds protein is what Caitlin loves most about ZeroCarb pizza crusts. A quick scroll through her IG feed shows numerous drool-worthy pizzas she created. Namely, the Brown Butter & Limoncello Lobster Tail pizza that sounds (and looks) simply amazing.
"At first, I fumbled the first recipe. I didn't pre-cook the crust before I added toppings. Now knowing you should pre-bake, I was in love. Super crispy and satisfying. The first bite tasted flavorful. The crust has a super neutral taste."
Finding a great-tasting substitute for a traditional pizza crust that is gluten-free has brought the joy of pizza night back into her home, and we're happy to oblige! We appreciate Caitlin sharing her ZeroCarb LYFE story with us! You can follow her extensive food journey on Instagram at @simpleeatsphilly. 
If our revolutionary crusts have changed your life, we'd love to hear it!
Click here
to share your ZeroCarb LYFE story with us.