Blog
What Is the Healthiest Type of Pizza Crust?
by Zero Carb on Mar 02, 2023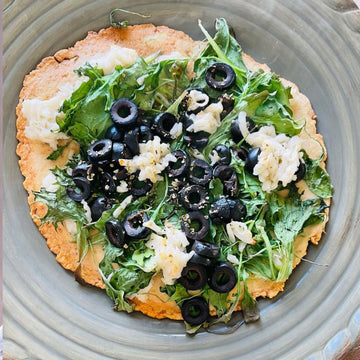 If you had to put together a list of the most popular foods in the world, undoubtedly pizza would be on it. In fact, with over 5 billion slices consumed each year, it would probably wind up near the top of the list. However, if you put together a list of the healthiest meals in the world, you probably wouldn't think to include pizza on that––and for some good reasons.
Take traditional pizza crust for example. Regardless of what toppings you prefer on your pie, regular pizza crusts are typically high in carbs, fats, and sodium while also providing little to no healthier nutrients like protein. Not to mention, traditional pizza crust also poses an issue for individuals who follow strict diets—be it out of choice or necessity. Of course, there are healthy pizza crust alternatives like gluten free pizza crust or paleo pizza crust. But, as anyone who has tried most gluten free or paleo crust options can tell you, they aren't renowned for being the most tasty option. So, that begs the question: can pizza crust be both healthy and tasty? The answer is yes! Let's dive in.
Is Whole Wheat Pizza Crust Better Than White?
Whole wheat pizza crust can be healthier than regular white crust, but not always. For example, whole wheat pizza crust typically contains more fiber, whole grains, and other vitamins and minerals than white crust. 
Is Whole Wheat Crust Healthy In General?
Not exactly. It's certainly a better option than regular white crust, but it's by no means the healthiest pizza crust. For starters, individuals looking to cut gluten out of their diet still can't eat whole wheat crust on account of several ingredients. Plus, whole wheat crust still contains a fair amount of fats and carbs, while only containing a few grams of protein.  
Is Gluten Free Pizza Crust Healthier Than Regular Pizza Crust?
While we are not expert dieticians or proponents of any specific diets, generally speaking, gluten free pizza crust can be a healthier alternative for pizza recipes. Of course, the overall healthiness of one pizza crust versus another depends largely on what ingredients are used, and what the nutritional value of those ingredients is. 
For example, simply swapping regular flour for gluten free flour doesn't necessarily make the gluten-free crust healthier. In fact, it can actually increase the amount of carbs while simultaneously decreasing the amount of protein. Of course, for gluten-free individuals, the gluten free crust is still the healthier option of the two. 
Not all gluten free crusts are created equal, however. Some gluten free crusts, like ours at ZeroCarb LYFE don't simply swap out the flour. Instead our pizza crust is made primarily of chicken, giving it zero carbs and 41 grams of protein.
What Is the Healthiest Pizza?
The healthiest pizza crusts should be low in carbs, sugars, sodium, and unhealthy fats. Additionally, they should be high in protein and fiber and be accessible for people with just about any dietary restriction. Our chicken crust at ZeroCarb LYFE is:
• Carb free
• Sugar free
• Gluten free
• Dairy free
Not to mention it has 37 grams of protein and only 210 calories per serving. You are probably asking yourself, if it ticks all those boxes, what's actually in it? Our healthiest pizza crust recipe consists of just four ingredients:
• Chicken breasts
• Olive oil
• Salt
• Our special diet friendly spice
When you compare that to other gluten free, whole wheat, and cauliflower crusts the numbers are pretty staggering. The 0 carbs is way lower than the 32 of cauliflower or the 50-60 for gluten-free and whole wheat. All three other crusts range from around 7-12 grams of protein whereas the chicken crust is more than three times as much. And, with 210 calories per serving, the chicken crust is as good or better than any of the alternatives. 
What Is the Best Premade Pizza Crust to Buy?
ZeroCarb LYFE's chicken crust is pretty hard to beat, and here's why. Not only is it nutritionally healthier in several ways, but it's also delicious. Being healthy doesn't have one single meaning. It's about more than just nutrients that fuel your body (although this is a key factor to consider). 
A healthy lifestyle also means eating food you enjoy, and having a happy and healthy relationship with food. After all, eating together and sharing food is a key part of being human. With ZeroCarb LYFE you can not only fuel your body, but you can enjoy the taste too. Plus, our pizza crust is a versatile component in any chef's arsenal. You can use it to make quesadillas, tacos, wraps, and more! Check out our website for more recipe inspiration. The more creative you get, the more food there is to enjoy.
Shop now to get your frozen chicken pizza crusts, or use our store locator to find them near you!