Blog
NEW! ZeroCarb Frozen Pizzas
by John Pena on Apr 25, 2022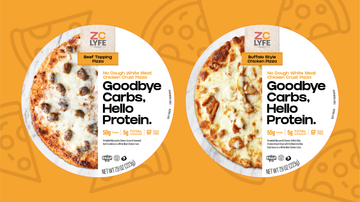 Riddle… guess what frozen pizza has 55g protein, 5g total carbs, has 470 calories, is gluten-free, and tastes like buffalo chicken? It's our NEW pre-made ZeroCarb LYFE chicken crust topped with Buffalo sauce, Buffalo chicken breast strips, and Mozzarella cheese!  Yes, it's April, but we're not fooling!  Our second delicious pizza option features Seasoned beef, Tomato sauce, Mozzarella cheese and has 50g protein, 510 calories, and 5g total carbs. 
We're so excited to share that our new 4-pack frozen pizza bundle is available to order here! You can mix and match the quantity of each kind, and these yummy pizzas will arrive at your doorstep in 8-10 days, ready to pop in the oven! 
We just returned from the 2022 International Pizza Expo held in Las Vegas, and our new frozen pizzas were a huge hit! Not surprisingly, we were featured in this article by BakingBusiness.com as one of the top five innovations in pizza. Our chicken crust is revolutionary!
Just like our crusts, our pre-made (and guilt-free!) pizzas are frozen and ready to bake right out of the package. Preheat your oven to 400°, place pizza on a pizza pan or cookie sheet on center rack of oven and bake for approximately 15 minutes. It really can't get any easier than that!
We have no doubt that you will love our newest members of the ZeroCarb LYFE family, but if for some reason you don't, they come with a satisfaction guarantee… love them, or you don't pay for them.
So what are you waiting for?
Click here
 to place your order on the website and be one of the first to give them a try. They're sure to be a hit at your family's next pizza night. Send us your
ZeroCarb LYFE story
featuring our new pizza and tell us all about it!