Blog
How Can I Eat Pizza on a Low-Carb Diet?
by Zero Carb on Mar 02, 2023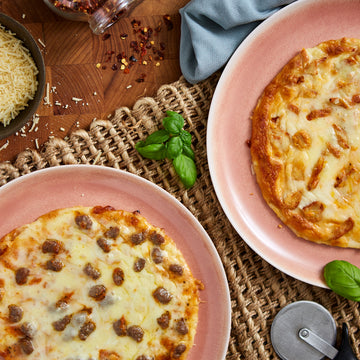 You've probably heard that pizza and diets don't mix together very well. While traditional pizza loaded with toppings can be heavy on the carbs and fat, there are better options out there that can fit nicely in your menu. You might be surprised that pizza can be a low-carb food for weight loss if you do it right! What options do you have? One place to start is gluten free pizza crust made from alternative ingredients than the dough we're used to. Let's look at how pizza and diets don't have to be at odds. So what's the deal with low-carb pizza? Can I have a slice of pizza on a low-carb diet? Let's look at how pizza can fit your needs.
Can I Eat Pizza on a Diet? 
Yes, you can eat pizza on just about any diet! Does that sound too good to be true? While we often think of pizza as unhealthy, there are ways to make it better for dieters and any restrictions like gluten intolerance or low-carb. Pizza does not have to be a bad thing, despite the fact that the majority of retail and chain restaurant pizza selections do not provide many options. So is there a solution? There definitely is, but it might take a little more work than dialing up your local pizza place and waiting for the doorbell to ring. 
When you make pizza at home, you'll be able to include ingredients that meet your dietary needs and avoid those that don't. You have control. If you're on a gluten-free or low-carb diet, there are crust options available for you that use ingredients like almond flour or even chicken! These options are just as delicious as traditional pizza crusts and even healthier!
What Is the Healthiest Pizza Crust?
Depending on your dietary needs, the healthiest pizza crust is low-carb—using ingredients like almond flour, cauliflower, or chicken to avoid carbohydrate-rich crust. Why is low-carb crust healthier? Pizza crust alternatives like cauliflower offer lower calories, carbs, and sodium. Chicken has zero carbs, low fat, and high protein. No matter which alternative you choose, these options are better than the high fat, excessive carbs, and soaring sodium levels in traditional pizza crusts.
Plain and simple: If you're on a low-carb diet or just looking for a healthier option, it would be best to avoid traditional crusts. But you don't have to quit pizza altogether. ZeroCarb LYFE offers keto-friendly, diabetic-friendly, and gluten-free chicken pizza crust made of chicken breast with additional tasty spices, olive oil, and salt. These pizza crusts are one of the healthiest alternatives for pizza lovers. And you don't have to worry about breaking your low-carb diet – not to mention they taste great too!
How to Make Pizza Healthy 
Making healthy pizza starts and ends with ingredients. Pizza can be better for low-carb diets if you use healthy ingredients like alternative pizza crusts made of chicken, almond flour, or cauliflower. Unfortunately, the nutritional value of traditional pizza crust is lacking and it's one reason why we view pizza as an unhealthy food option. While it might not sound as exciting, eating pizza on a diet means reducing the amount of salty and fatty toppings and using thin or low-carb crust. But that doesn't mean you have to compromise on taste! There are other things you can do to have a healthier pizza experience and enjoy all the great flavor you're looking for:
• Blot your pizza to remove grease
• Avoid "individual" pizzas that promote eating more
• Make pizza at home
• Stick with tomato sauce (You can even add a little extra!) 
• Use crust alternatives like ZeroCarb LYFE's chicken crust
What Is the Best Pizza to Eat on a Diet? 
Because you care about healthy food that meets your dietary needs, ZeroCarb LYFE made pizza even better! We offer high-quality, zero carb chicken pizza crusts, as well as frozen pizzas for you to enjoy guilt free. With only four ingredients, ZeroCarb LYFE crusts are both nutrient-dense and delicious.
What are the advantages of ZeroCarb LYFE chicken pizza crusts over traditional pizza?
• Chicken crusts have more protein than the dough on regular pizza crusts. Our crusts have 37 grams of protein! (Traditional crusts have less than 5 grams.)
• Great flavor! Our chicken crusts add a great deal of flavor to your pizza. We add a few spices to make it even tastier. 
• No filler—only four ingredients! Rather than crusts lacking nutritional value, ZeroCarb LYFE makes a healthy alternative that contains protein, vitamins, and minerals (all found naturally in chicken)! 
• Our chicken crust can be used for pizza, flatbread, quesadillas, and more!
Are your taste buds craving the ZeroCarb LYFE pizza crust? If you'd like to try a protein based, gluten free, and diabetic and keto friendly crust, visit our website and get started on your healthy pizza journey!