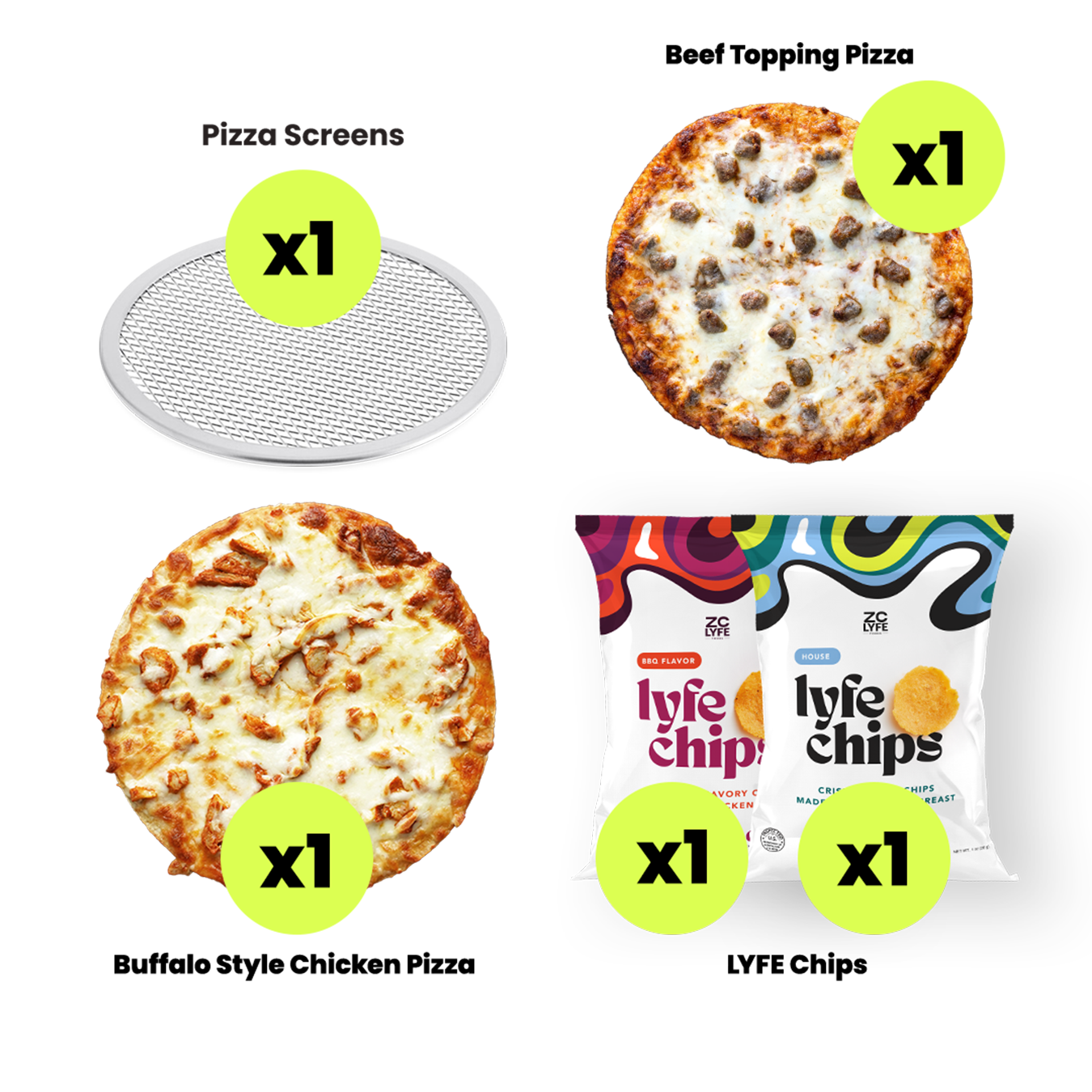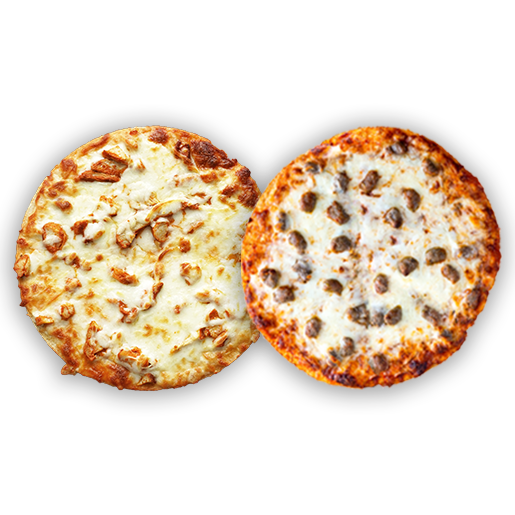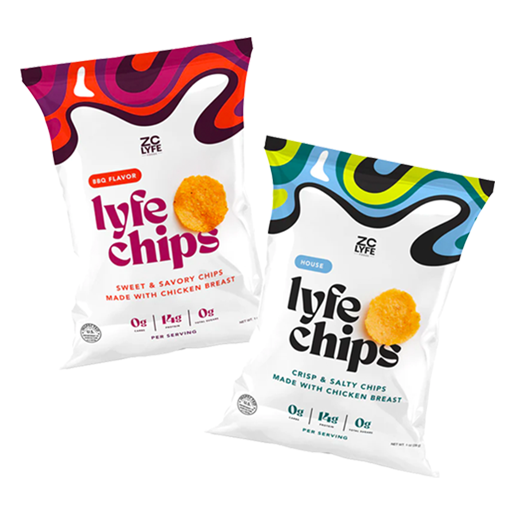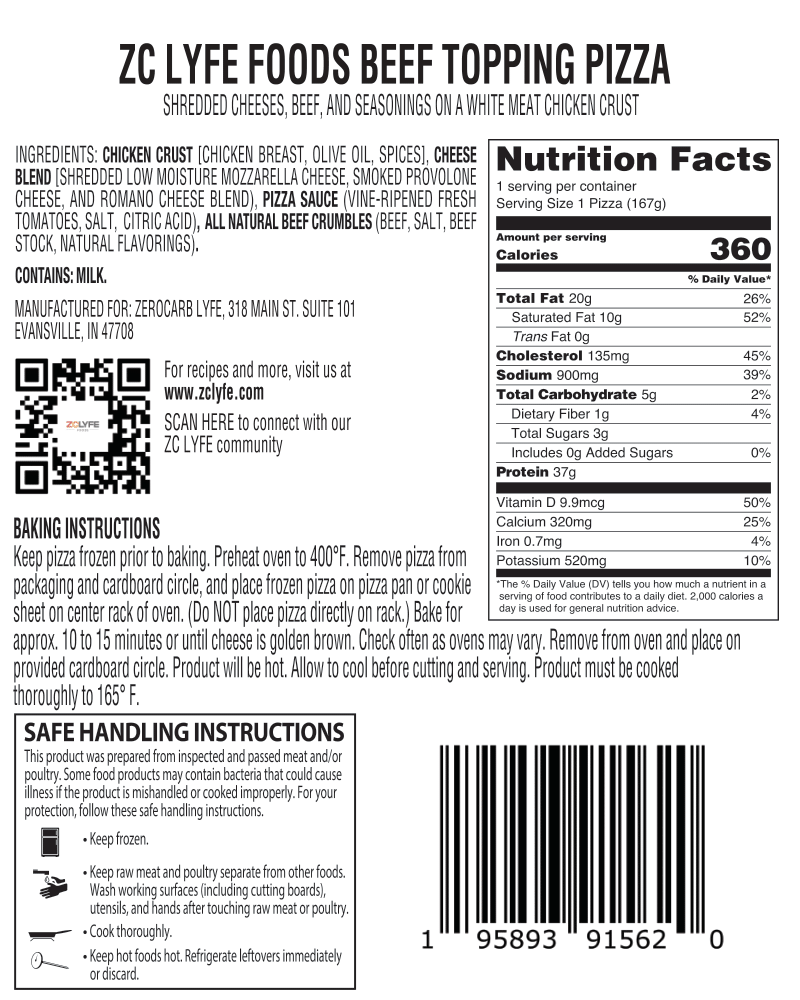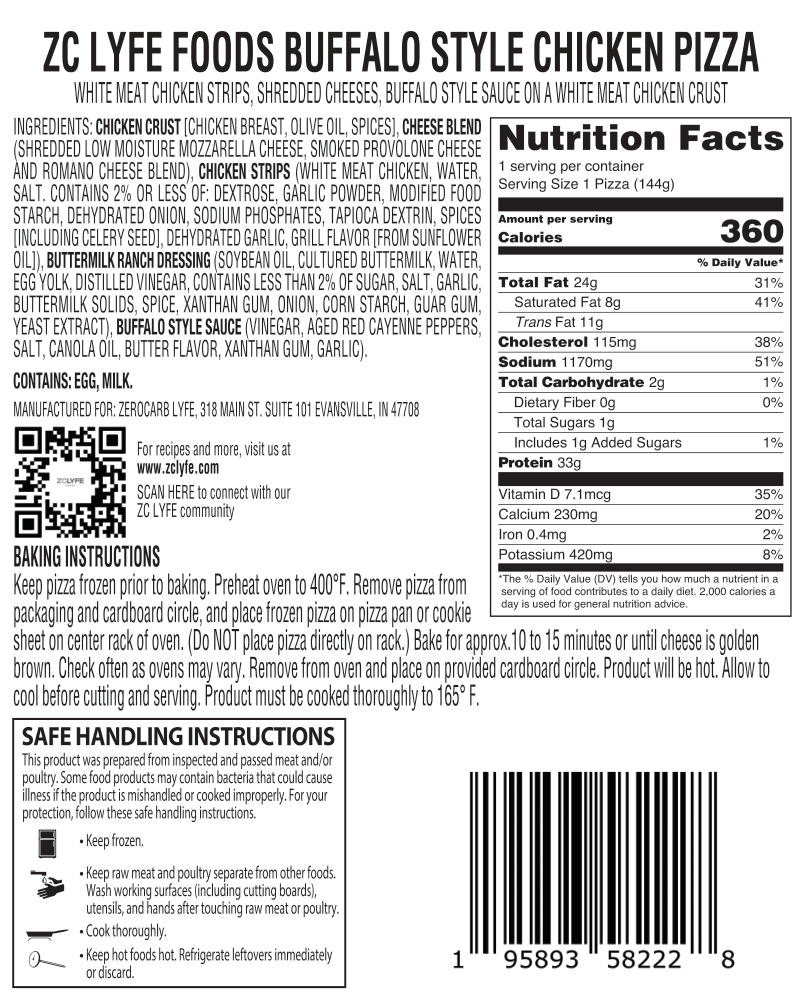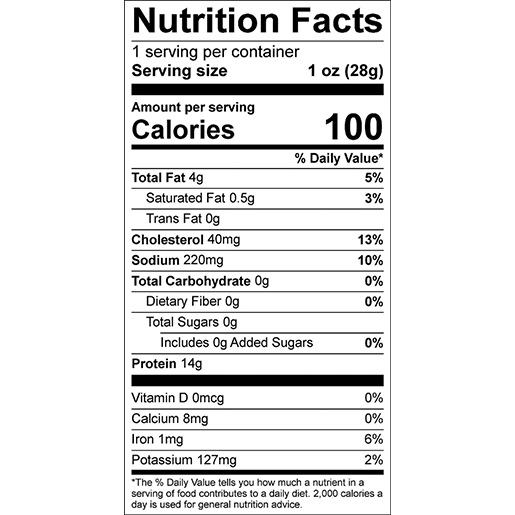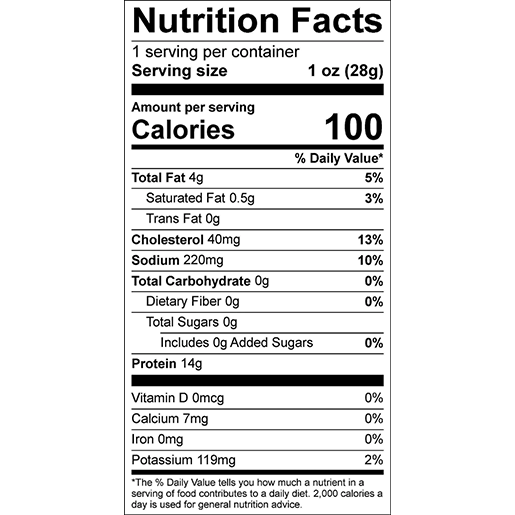 Sale price
$49.99
Regular price
ZeroCarb LYFE Starter Pack
All 100% chicken breast-based (2 Frozen Pizzas - 2 Lyfe Chips Bags) + 1 Pizza Screen

Guarantee safe & secure checkout
Estimated Delivery:Dec 08 - Dec 15

Returns Guarantee: 30 Days money back gurantee
Introducing Starter Pack D! Each item is 100% chicken breast-based: 1 Beef Topping Pizza (38g protein), 1 Buffalo Style Chicken Pizza (33g protein), 2 LYFE Chips Bags (14g protein each), and 1 Aluminum Pizza Screen.
ZeroCarb LYFE Starter Pack
Sale price
$49.99
Regular price
Features & Benefits
Cooking Instructions
Nutritional Facts
FAQs
Starter Pack Includes:
2 Frozen Pizzas:  Satisfy your cravings with 1 beef toppings & 1 buffalo style chicken mouth watering Pizzas.
Nutritional Values (per pizza):

Protein: 38g (Beef Topping) - 33g (Buffalo Style Chicken)

Carbs: 4g (Beef Topping) - 2g (Buffalo Style Chicken)
2 LYFE Chips Bags:: Enjoy two flavors of our protein-packed, keto-friendly, and gluten-free chicken chips.
Nutritional Values (per serving):

Protein: 14g

Carbohydrates: 0g

Sugar: 0g
1 Pizza Screen: Achieve uniform cooking and that crispy bite with our premium 8 Inch Aluminum Pizza Screens.
Elevate your pizza game with this all-in-one bundle, designed to make your homemade pizzas truly exceptional.
Frozen Pizza Cooking Instructions:
Prior to baking, keep the pizza frozen. Preheat the oven to 400°F.

Remove the pizza from its packaging and the cardboard circle, and place the frozen pizza on a pizza pan or cookie sheet on the center rack of the oven (do NOT place the pizza directly on the rack).

Bake for approximately 15 minutes or until the cheese is golden brown.

As ovens may vary, check the pizza often.

Remove the pizza from the oven and place it on the provided cardboard circle.
How to separate the frozen crusts from each other?
We suggest allowing the crust to thaw for 10-15 minutes before preparation or until it is softened enough to easily separate individual crusts with a spatula or butter knife. Afterward, return the remaining crust to the freezer. Kindly refer to the instructions for further details.
I have a package of crusts that were delayed, will they still be safe for consumption when they arrive soon?
We apologize for any inconvenience caused! If the crusts are still frozen or at least chilled, they are safe to eat. Just ensure to put them back in the freezer as soon as possible.
Please note that the dry ice is intended to evaporate during shipping, so the plastic bag may be empty upon receipt of your shipment. However, as long as your products feel cold to the touch when unpacked, your order is in good condition.
If the products aren't chilled or seem to be near room temperature, please inform us, and we'll take care of the matter for you.
Can I cook my crust at a lower temp for longer?
We would not recommend cooking at a lower temperature because there is a possibility that your crust would dry out more than usual.
What to do if my crust is still soft after pre-baking & baking with toppings?
We have found that baking the crust first (without toppings) for 6-8 minutes and then adding toppings and baking for another 6-8 minutes results in a much crispier pizza.
Additionally, some customers have reported that adjusting the baking temperature to 500 degrees has resulted in an extra crispy crust. This is something you can experiment with based on your personal preference for crispiness.
Can I refreeze the crusts after they thaw out?
Yes! The crusts are fully cooked, so it is completely safe to put them back in the freezer!
How do I store my ZeroCarb crusts?
ZeroCarb crusts should be stored in the freezer, where they can be kept frozen until the best by date. Alternatively, they can be stored in the refrigerator for 3-4 days.
Are you available internationally?
At present, we are only accessible in the continental United States. Nonetheless, we are making efforts to broaden the reach of the ZeroCarb brand, and this encompasses ambitious plans for the future.
What are the ingredients? What is ZeroCarb crust made of?
We like to keep it simple. The Zero Carb crust is made up of four ingredients: chicken breast, olive oil, salt, and our special, secret spices.
I am lactose intolerant, can I still eat the crust?
Good news, you can! With only four ingredients, we are dairy-free, gluten-free, and diabetic-friendly.
How can I sell your products at my restaurant?
Please visit our website here and complete the "Let's Team Up" form located at the bottom of the page to request your free samples. A member of the ZeroCarb team will contact you as soon as possible.
Is the crust frozen or freshly made?
Our crusts are freshly made by our awesome and hardworking employees. Additionally, we make sure that they are delivered fresh and have not been sitting in a warehouse for months.
I received my order cold but the dry ice bag is empty, is that an issue?
The dry ice is designed to evaporate during shipping, so the plastic bag may be empty upon receipt of your shipment. As long as your products feel cold to the touch when you unpack them, your order is considered acceptable.
Where are you located? Where can I buy your products?
To find restaurants that currently serve our crust, please visit our website here. If we haven't made it to your area yet, you can purchase directly from our website.
If you don't see our crust at your favorite spot, we encourage you to spread the word and let us know so we can work on bringing our crust to a location near you!
How to avoid freezer burn?
We suggest that you place your crusts in a Ziploc bag and make sure to remove the air before putting it back in the freezer.
How to have a crispier crust?
We recommend allowing your crust to thaw for 10-15 minutes or until it is completely soft before preparation. To separate individual crusts, use a spatula or butter knife and return the remaining crust to the freezer.
Next, preheat the oven to 450-500 degrees and place the crust on the oven rack for 5-8 minutes until the edge starts to brown.
Remove the crust from the oven and top it with your favorite sauce and toppings. Place the crust on parchment paper to prevent cheese or sauce from dripping, or on a pizza pan, or directly on your oven rack. Cook it in the oven for another 6-8 minutes or until the cheese is browned.
I cooked the crust but it is tough/hard to bite/ chewy, what should I do?
That might mean the crust was overcooked. As you know, every oven is different, some may cause the crusts to crisp really fast, while some may take longer.
We recommend that when pre-cooking the crust, as soon as the edge starts to lightly brown, take it out of the oven and add the toppings before baking it again. Do not leave it inside the oven until it is completely brown.
Alternatively, you may skip pre-baking the crust and add the toppings after letting the crust thaw. Then put it in the oven and bake it.